Draft Horse Training by Cathy Zahm and Shipshewana Harness & Supplies
Shipshewana Harness has been working with Cathy Zahm to manufacture and provide the draft horse industry with quality training supplies. Listed below are some of her most sought after products. More products are in the works, please call us for the latest information!
The Cathy Zahm Training DVD Series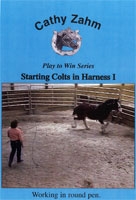 "Starting Colts In Harness Part 1" A two DVD series covering: bit selection, harness techniques, how to safely hitch and unhitch, and extreme examples of problem horses. The two tapes will guide you through the first three days of her round pen and bitting-rig training method. It also includes lots of helpful training tips.

"Starting Colts Part 2" A two DVD series. The first covers day 4 and 5 of her training program. Sled, traffic work and hitching to a wagon. Lots of safety tips. The second tape shows you how to hitch to a cart for the first time, teach "gee" and "haw" and work single. Also includes lunging and starting a colt under saddle.

"Grooming Tips For Show and Sale" This DVD will show you step by step how to groom and fit horses for the show or sale ring. You will learn how to clip legs, ears and face as well as how to thin and shorten manes. Includes tips on rolling a mane and tie tails - much more.
Harness and Bridles
CZ Training Harness Nylon Training Surcingle. Available in draft or light horse size.

CZ Training Bridle Nylon Bridle very adjustable. Available in 3 sizes.
Standard snaffle bit.

CZ Bar Halter - The Training tool that gets the horse's attention. Available in 3 sizes.
Cathy Zahm Sled - Comes complete with tongue, evener, neckyoke and stay chains. This sled is great for training colts. See Cathy's video on the best way to use this sled!
"A cart that not only rides nice, but is safe!" This training/pleasure cart was designed for safety and comfort. Its safety brakes work in both directions, thus keeping a horse from backing up or moving forward. It is also well balanced, putting minimal weight on the horses' back.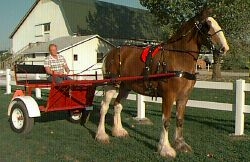 For more information or to order by phone call (260) 768-7254.