Shipshewana Harness & Supplies
Welcome to SHS online!
Make sure you also check out our Facebook and Instagram pages!
Check here for Frequently Asked Questions before you order
YOUR PHOTOS HELP US HELP YOU!
Send a photo of your harness and horse to harness@shipshewanaharness.com so we can better answer your questions!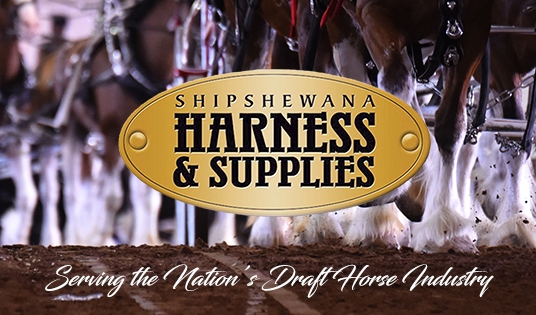 Here you will find a selection of our most popular items. Feel free to browse, place an order, or give us a call!
If you are interested in a product that you do not see listed, please give us a call at 260-768-7254 or Contact Us.
SHS offers a complete line of Draft horse harnesses and the exclusive line of SHOWTIME shipping boots, horse blankets, show halters, decorations and more!

LOOK FOR US AT THESE UPCOMING EVENTS

Six-Horse Classic Series World Finals
Sept. 21-23, 2023
Michiana Event Center, Shipshewana, IN
Visit our shop just up the road!

Michigan Great Lakes International
Oct. 12-15, 2023
MSU Livestock Pavilion, East Lansing, MI
Visit Bob at our booth located next to the main doors!

Topeka Fall Draft Horse Sale
Oct. 30-Nov. 3, 2023
Topeka Livestock Auction, Topeka, IN
Visit our shop just up the road!

Are you heading to a show, sale or event and need some supplies?
Contact us! We may have someone headed that way that can deliver!
Shop With Confidence
Our on-line store is equipped with the latest SSL technology to make your shopping experience safe and secure. Because we understand that your privacy is important, your personal information will not be shared with other vendors or partner sites without your express permission. When you shop with Shipshewana Harness and Supplies your satisfaction is GUARANTEED!
Featured Items