Shipshewana Harness & Supplies
Thanks for visiting our on-line store!
Make sure to check out our Facebook page!
Check here for Frequently Asked Questions before you order
Send a photo of your harness and horse to harness@shipshewanaharness.com so we can better answer your questions!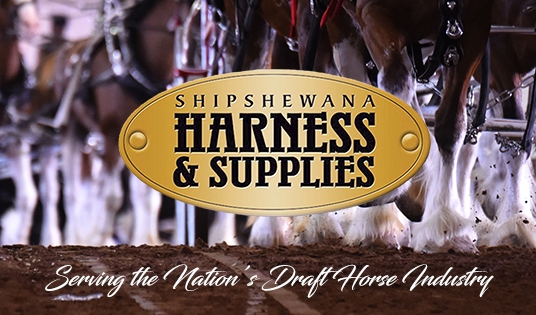 Here you will find a selection of our most popular items. Feel free to browse, place an order, or give us a call! We're adding more products to our online store everyday. If you are interested in a product that you do not see listed, please give us a call at 260-768-7254 or Contact Us.
Shipshewana Harness & Supplies offers a complete line of Draft horse harnesses and carries the exclusive line of SHOWTIME brand shipping boots, horse blankets, hock sweats, show halters, decorations and much more.

Shop With Confidence
Our on-line store is equipped with the latest SSL technology to make your shopping experience safe and secure. Because we understand that your privacy is important, your personal information will not be shared with other vendors or partner sites without your express permission. When you shop with Shipshewana Harness and Supplies your satisfaction is GUARANTEED!

LOOK FOR US AT THESE UPCOMING EVENTS
IHHA Haflinger Horse Sale - March 26-27 - Topeka, IN
Visit us at the shop just up the road in Shipshewana!

Midwest Select Sale - April 6-8 - Jefferson, WI
Stop by our booth at the sale!

National Clydesdale Sale - April 22-24 - Springfield, IL
Stop by our booth at the sale!

Can/Am Clydesdale Extravaganza Sale - May 28-29 - Shipshewana, IN
Visit us at the sale or just up the road at the shop!

Midwest Draft Horse Classic - June 25-26 - Shipshewana, IN
Visit the shop just up the road!

Who Wouldn't want to save on shipping?
Place your order in advance! We can deliver it to the show or sale and save you the shipping charges!
Featured Items