Showtime "Original" 1200S Draft Sheet
Item#: BK0101
We are proud to say this product is manufactured RIGHT HERE in the shop!
The SHOWTIME 1200S is an unlined blanket that is designed to use in cool weather.
These blankets are designed to fit the contours of Draft Horses, manufactured exclusively by us, and are made 1000 Denier Cordura® DWR (Durable Water Resistant). Extremely durable, quick drying, washes up very well and most importantly, they are breathable! Unlined. They have elastic leg straps with swivel snaps, two inch wide belly band and a double snap front closure. Stainless steel hardware.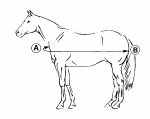 Do not forget to add
6 inches to your measurement
. For example: If you measure your horse to be 90 inches from center of chest to center of tail, then you will need to order a size 96 blanket.
To clean your Showtime blanket, fasten the leg straps and Velcro belly band fasteners before washing. Wash in lukewarm or cold water using a mild detergent. Do not dry clean. Hang up to dry. If using a dryer, do not dry on high heat and only dry for 5 minutes - then allow to air dry.